15 Reasons Why Maldives Should Be Your Next Holiday Destination
|
<!- google_ad_section_start ->
Maldives, the most magnificient, breathtaking and unique place on earth is certainly a place to visit for at least once in life. Chain of islands, bioluminescent phytoplanktons, breathtaking beaches and spectacular resorts. Believe it or not, you can find all this at one place! With many desirable holiday destinations around the world, the Maldives undoubtedly stands out mainly because of its isolated location. Aside from stupefying beauty and exceptional tranquility, Maldives has some of the finest hotels and spas in the world, most of the international luxury brands operate reports in the Maldives
Also See: THE TOP 15 LUXURY RESORTS IN THE MALDIVES
Maldives is the place to be if you want to fall in love with nature. Some of the unique phenomenon of nature can be seen exclusively at Maldives. Dazzling Electric blue neon waters is one of them. Walking next to it with your loved one is one of the best feelings in the world. Sea Plane ride across the ocean is another fascinating thing to do at Maldives. The experience is simply out-of-the-world!
Also See: WHY GILI LANKANFUSHI MALDIVES IS THE BEST HOTEL IN THE WORLD
The Maldives are known around the world for its picturesque sights. Along with it, the islands also have a warm and exotic culture. Inhabited mainly by Muslims, the capital city of Male is home to most of the nation's cultural attractions. The National Museum, Presidential palace, Sultan Park, Male's Fish Market and the Grand Friday mosque are all must see places at Male. While not as glamorous as the resorts, this city is a hub of activity.
Talking about its hotels and spa resorts, Maldives is home for some of the most luxurious resorts in the world. With an economy largely based on tourism, this paradise on earth has embraced the global demand for ultra-luxurious accommodations and pristine experiences. On-site spas offer incredible spa treatments perfect for pampering yourself. Crystalline blue waters gushing against isolated stretches of white sand certainly create a mind blowing sight. The islands of the Maldives offer peaceful surroundings with the beautiful islands which are remote and amazingly pure. Captivating blue waters are home to some of the most vivacious sea life in the world.
So, get closer to nature and enjoy its gifts to the fullest by simply visiting The Maldives!
Flat Chain Of Islands!
The isolated islands of the Maldives serves as an antidote for stressful lives we all live in. Aren't the pictures lucrative enough for you to pack your bags and leave for Maldives right now?
Come To Maldives And Forget The World!
The isolated islands of the Maldives serves as an antidote for stressful lives we all live in. Aren't the pictures lucrative enough for you to pack your bags and leave for Maldives right now?
Electric Neon Blue Waters!
Its one of the most alluring natural phenomenon seen in the evening at Maldives. A Maldives beach awash in Bioluminescent Phytoplankton is simply a super impressive sight which definitely should not be missed.
Stars Have Fallen Down On Earth Today
Its just awesomely romantic and amazing at the same time. Its one of the best place to hangout with your loved one. So what are you waiting for? Go ahead and book your tickets to Maldives today!
I Am Mesmerized Already!
Blue waters and white sand beaches are seriously more than enough to intoxicate me completely!
Seaplane Rides Are Simply Breathtaking!
Famous Seaplanes take guests to distant resorts. Bird eye view of Maldives is an extraordinary sight!
Resorts Which Are Just Irresistible!
With villas on the sea and pure blue waters, the resorts at Maldives are damn tempting!
Ready For A Date?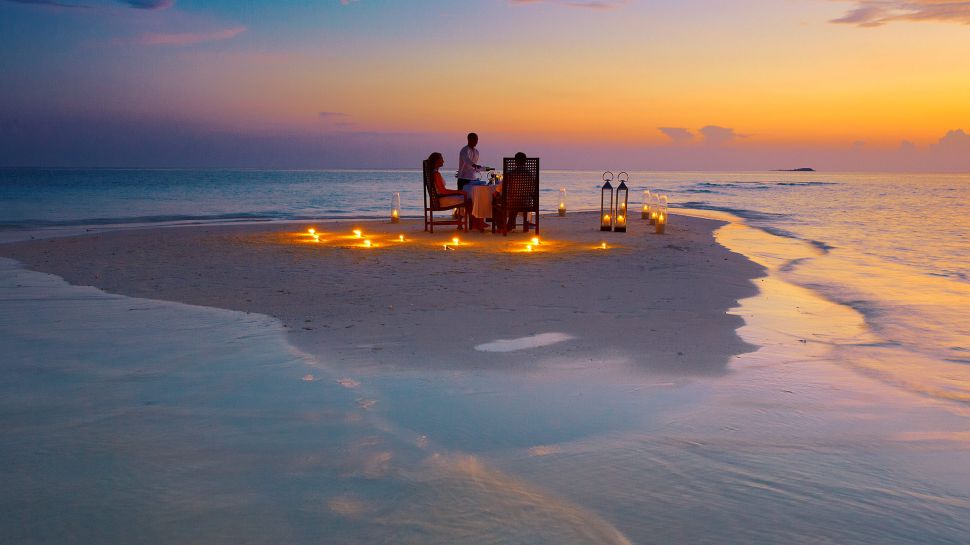 White sands surrounded by blue waters are waiting for you and your soulmate to have a memorable date!
Life Is Better Under The Ocean!
Are you up for an astonishing experience? Make yourself comfortable at the "under the sea" hotel rooms in Maldives. We assure you that this experience will be an unforgettable one!
Get Active on Water Spots
There is no better way to spend your holiday in crystal clear water and white sandy beaches of Maldives, get busy with various water sports such as parasailing or surfing in crystal clear warm water of Maldives.
Snorkelling with friendly sea creatures.
It could be one is a life time experience to swim with friendly sea creatures in the water of the Maldives.
Finest Dining Experience!
Have a good time dining with thousands of fishes and sea animals exclusively at Maldives.
Give Your Bestie An Underwater High Five At Maldives!
Get in touch with the underwater sea life and go completely adventurous with your friends and family.
Stunning Seaside Villas!
Get close to sea by renting these beautiful sea side villas and make your stay at Maldives even more fascinating!
Bird Eye View Of Male!
It's a different site than those empty relaxing resorts, get up close and personal with friendly locals in one of the densely populated city in the world in this tiny island.
If you loved our story, feel free to share it!